Vlog – An Exciting New Refugee Painting – flows off the brush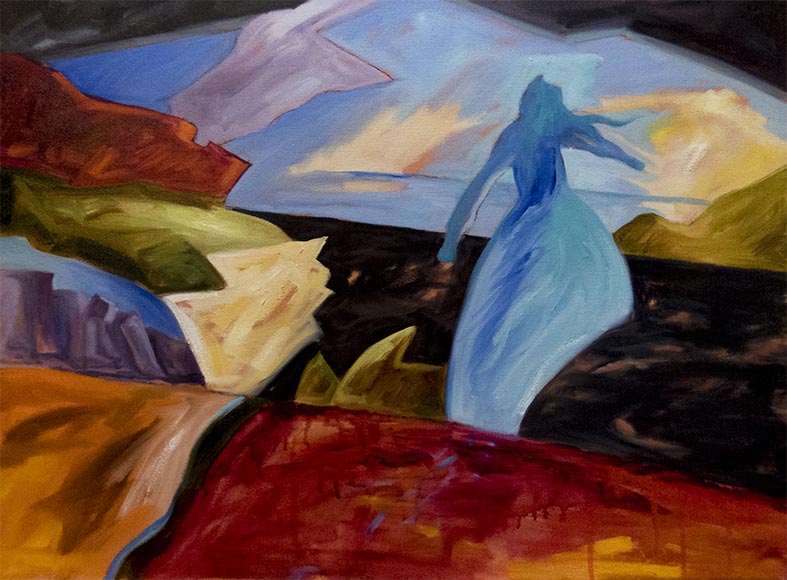 As the new refugee painting emerges, this series of works is proving to have a lot more depth to it than I initially thought it was going to. Not to say that subject of refugees is not a subject without depth. However what I have realised particularly while working on this latest painting is that the painting itself, can be read on another level entirely. In other words it is not a painting just about refugees. As you can see from the completed image there is a figure taking a step into a large dark unknown area, moving towards a bright beckoning horizon.
This horizon might be a new land for the refugee, or the figure could on the other hand be, anyone taking that courageous step into a new land of possibility. This step might be, either a mental or physical journey.  In either case the person taking the step has similar emotional challenges. These challenges might include, overcoming ones fear. Of course can be fear of many different things: fear of the unknown, fear of failure, even fear of success, fear of being alone or fear of not meeting expectations, either one's own or someone else's.
I am considering the subject of refugee painting in a whole new light.  Are we not refugees in so many ways and at different times of our lives?  Don't get me wrong, I am not trying to belittle the plight of refugees in any way. What  I am finding is a parallel, in emotional crises. For example, some one becomes divorced, is tossed out by their partner, their house burns down and so on, is now experiencing perhaps a similar level of anxiety and distress – they are homeless, don't know what the future holds, where will they go or how will they manage? Some of us take these situations almost in our stride while others of us have no tools in our emotional backpack to deal with them well. Of course with  refugees there are the added layers of abandoning their Mother country and war with all its attendant psychological and physical horrors that have to be dealt with as well.
So I suspect that as this series unfolds there are many areas to look at in light of our unravelling societies and how we cope in the rapidly changing 21st Century.
This Weeks Question: What can we do individually do to help the refugee crisis at any level, whether it is international refugees, or homeless battered women in our town?  Please Share your thoughts…..
Look For Next Week's Post: A look at what's coming up next in the studio.