Creative Entrepreneurship
Did you know that being an artist is an entrepreneurial activity? The creative entrepreneur is in some ways no different to a normal kind of entrepreneur. You have a business and it is up to you to make it happen. If you don't, nobody else will. The creative entrepreneur needs to know her market and be willing to take risks. She must not only produce a product but will also be her greatest proponent of it as well.
Let's take a look at the dictionary definition of entrepreneur…. Dictionary.com tells us – 
An entrepreneur is a person who organizes and manages any enterprise, especially a business, usually with considerable initiative and risk. 
Doesn't that sound like you – the artist, the creative entrepreneur?
There is a book I particularly like, which is a great read for artists. It is called, oddly enough 'The Creative Entrepreneur', written by Lisa Sonora Beam.It is one of those books that you really want to own a hard copy of. I have one.  It is a, 'DIY Visual Guide book for making business ideas real' and because it is made specifically for the creative person.  It's very visual in its presentation. 
This book has been around awhile. It was printed in 2008. At this time, Art Journaling was not really all the rage but this book was written using those principles. One of the things that an artist often finds difficult, is sustainable business practices, so it is refreshing to find a book that's about business, in a way that tickles one's creative sensibilities. Here is my affiliate link to the book on Amazon.
Below is my take on a great concept of hers – the Creative Entrepreneur Mandala….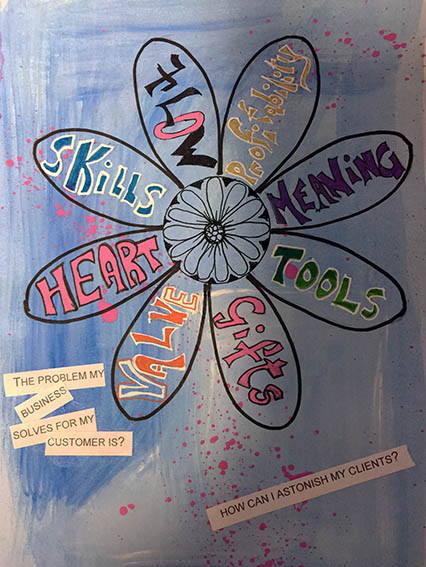 In the text she unpacks each axis of the mandala and gives you journaling prompts to help you tease out your own information. It is an easy read, not too complex and there is plenty of encouragement for reflection and putting ideas into practice.If you are interested, Lisa also has some other wonderful Creative Practice Programs. I am doing one at the moment as well as the Creative Entrepreneur material. 
This Weeks Question: Do you have a business plan, one that you use and follow? 
Look For Next Monday's Post: Review of Colour Workshop Number 2