See Frida Kahlo now!
Frida Kahlo has enjoyed a great resurgence in popularity in recent times. Her work is currently being shown at the New South Wales art gallery in Sydney. There is a movie out about her life, simply called Frida which is well worth watching. It gives some great background to this exceptional artist. The film is a biography of her life.  She was an artist who channeled the pain of a crippling injury and her tempestuous marriage into her work. She was married to equally famous artist and mentor the muralist – Diego Rivera.
Her relationship with Rivera was stormy to say the least.  Discovering her husband's infidelity led her to an illicit and controversial affair with Leon Trotsky. Frida Kahlo lived a bold and uncompromising life.  She was an artistic, political and sexual revolutionary.  Furthermore, not only did she have affairs with men but she also indulged in provocative, romantic and at the time, scandalous, entanglements with women.
Kahlo painted the above self-portrait after her divorce from Diego Rivera and at the end of her affair with photographer Nickolas Muray. Many of her works were self portraits, which she painted for friends. While we may admire her feisty nature and passionate story, we can appreciate how this informs her works. The other aspect we see popping up frequently within her work were images driven by the pain she endured from the accident she had as a young woman.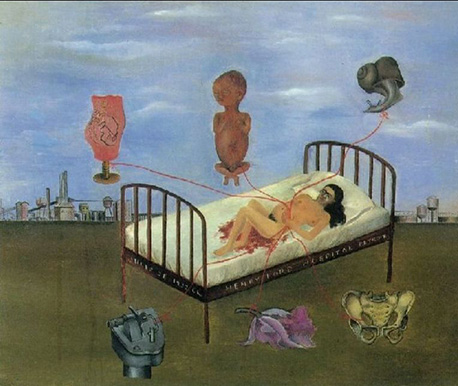 This Weeks Question: Did you see the exhibition and if so what really stood out for you?
Look For Next Week's Post: New Horizons Triptych fully revealed!
Pix Credits – Wiki